MicroForests is a social enterprise that provides meaningful training and dignified job opportunities for marginalized women who are new arrivals, single parents, teen mom or women from low income families through the sale of artwork, workshops and scene design. We also aim to empower them to regain confidence, dignity and enhance their well-being.
Our MicroForests are inspired by the Sogetsu School of Japanese Floral Art (Ikebana) founded in 1927 by Sofu Teshigahara. We create living artwork that brings green, peace, happiness and balance to the busy lives of Hong Kong people. Each MicroForests artwork is an unique ecosystem made just for you!
OUR Vision
Increase economic participation of women
Increase gender equality
Enhance wellness of life
Spread positive energy to community
Our Mission
Empower more marginalized women with meaningful training and dignified job opportunities
Provide free workshop on terrarium-making such as a family-bonding/therapeutic exercise for low-income families, elders living in private homes and people in need
Increase public awareness of green sustainability and social inclusion
Foster communication between different social classes
Promote the importance of green & sustainable through educational workshops
The MicroForests Social Enterprise Model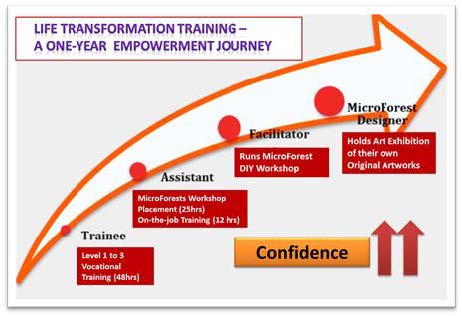 MicroForests is a social enterprise that provides meaningful training and dignified job opportunities to disadvantaged women such as single mothers, teen moms, new arrivals, and/or women from low income families. MicroForests launched the "Life Transformation Program" pilot project in September 2014.
The "Life Transformation Program" program uses a cross-sector collaboration model and social capital accumulation theory. As such, the skills training opportunities and revenue generating components of the pilot program includes:
The sale of MicroForests artwork
MicroForests design services
Training workshops for beneficiaries
Workshops open to the public
Workshops designed for corporate and school engagement
The "Life Transformation Program" offers our beneficiaries a well-structured training program with flexible working hours, so she can have the opportunity to earn extra income for her family and create work-life balance. Our program offers various placement and job opportunities to fit our trainee's skills and career objectives, which include the opportunity to be:
MicroForests designers
DIY Workshop facilitators
Couriers and logistics managers
MicroForests ambassadors
Part-time administrators
The aim of our intensive program is to empower our mother trainees to acquire the necessary knowledge and confidence to become qualified MicroForests Mother Designers and facilitators. The training program consists of three levels and take up a total of 48 hours including 8 placement hours and MicroForests study trip.
Poverty Alleviation
In Hong Kong, just around 42,000 housewives said they would re-join the workforce if they were given job opportunities that were suitable to their lifestyle. Issues such as illiteracy, lack of employable skills, and inflexible work environments are the biggest hinderances to disadvantaged mothers from gaining employment in Hong Kong.
MicroForests's programs directly addresses the issues hindering women from re-entering the workforce by providing skills training and flexible employment. The objective of our programs is to encourage women in low-income families to gain meaningful skills and employment. Through the skills training workshop, we are addressing the issue of poverty amongst women and children, especially single-mother families. As a result, we have seen an increase in confidence and self-reliance from the women who are in our program, which improves the well-being of their families.